Mes actus 2023
A l'Affiche ...
« SECRET DE FEMMES » Aux archives municipales de Béziers 06 MARS 2023 > 03 JUIN 2023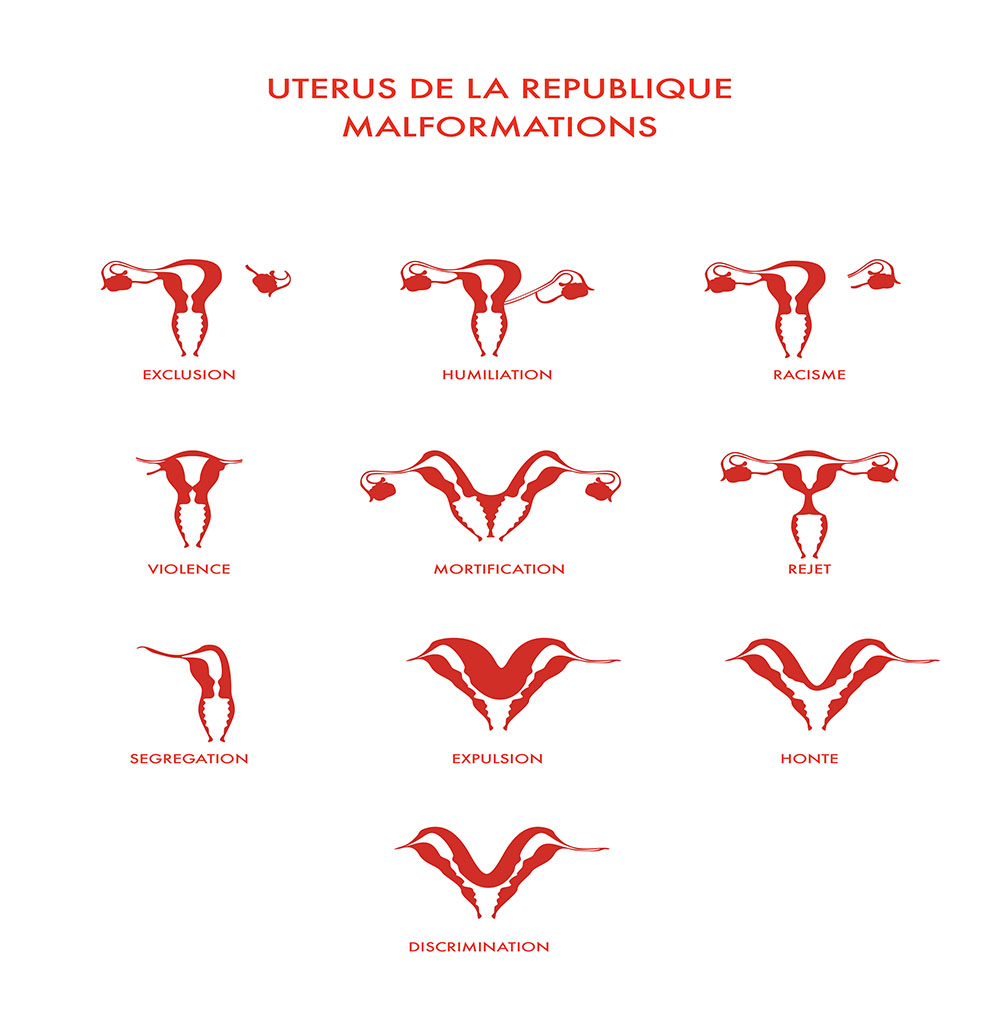 Commissaire/Curator :
Philippe Macia
« A l'occasion de sa dernière acquisition , Les Archives Municipales de Béziers présentent Secret de Femmes une exposition faisant converser des lettres écrites par les femmes plus ou moins célèbres de l'Histoire de France avec les œuvres d'art d'artistes contemporaines. »
Site web :www.archives.ville-beziers.fr
---
L'ANTRE DEUX ARTISTES Exposition CIAM - LA FABRIQUE - LES ABATTOIRS - TOULOUSE 15 MARS 2023 > 15 AVRIL 2023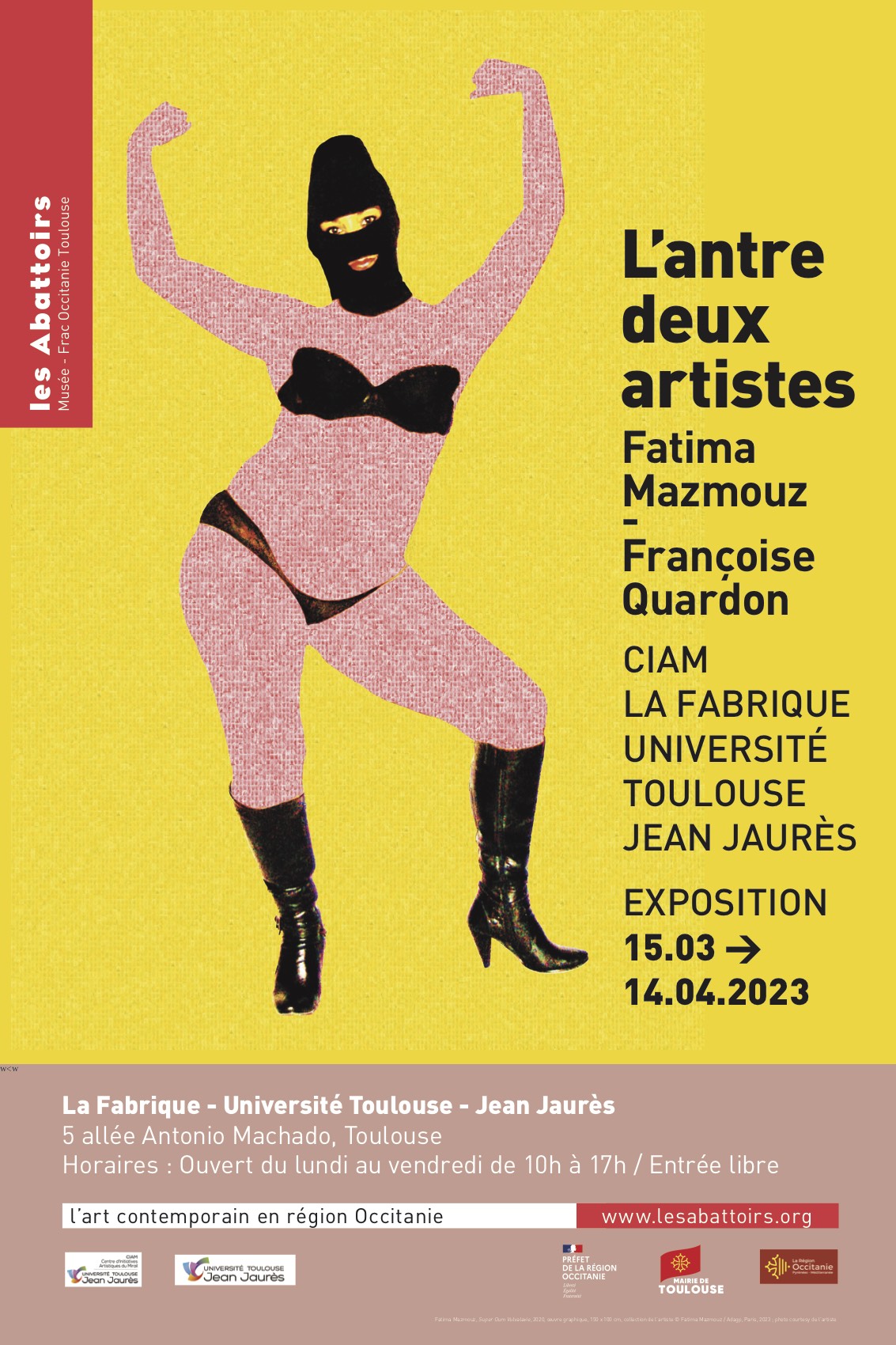 Commissaire d'exposition : M2 Toulouse
LES ARTISTES : Fatima MAZMOUZ - Françoise QUARDON.
« Dans le cadre du Master 2 - Métiers de l'art, ... Les étudiants du CIAM  en partenariat avec les Abattoirs de Toulouse, présente une conversation entre deux monographies , deux artistes féministes, Fatima Mazmouz et Françoise Quardon »
Site web :https://www.culture.univ-tlse2.fr

GO > Voir Portfolio série Vulvalavie
---
TALKING HEADS: Archival Echoes HERStory - Exposition - Kunstverein Tiergarten | Galerie Nord à Berlin 21 AVRIL > 03 JUIN 2023
Commissaire d'exposition : Lisa Paland et Eva Bentcheva
LES ARTISTES : Avec les extraits des portraits vidéos de : Annette Messager, Pélagie Gbaguidi, Myriam Mechita, Princia Itoua, Aline Mazarin, Rokhaya Diallo, Christine Confiance, Christian Jalma, Estelle Prudent, Qingmei Yao, Brandon Gercara, Émilie Notéris, Marie-Claire Messouma Manlanbien, Mathilde Fertet & Manon Montravers, Elena Moaty, Apolonia Sokol, Michèle Magema, Pauline Ngouala, Phoenix Atala, Raphaëlle Ricol, Caroline de Chiara, Malala Andrialavidrazana, Amina Benbouchta, Fatima Mazmouz, Zainab Fasiki, Kubra Khademi, Raymonde Arcier, Edi Dubien, Tarek Lakhrissi, Mathilde Lebon, Myriam Mihindou, Tsuneko Taniuchi, Camille Ducelier, Gérald Kurdian, Roberta Marrero, Sorour Darabi, Myriam Omar Awadi, Élisabeth Lebovici, Xylric Lepinay, Paola Bacchetta, Esther Ferrer.
« HERstory sera associé à deux autres projets dont l'oralité est le sujet, au sein de l'exposition collective Talking Heads »
Talking Heads: Archival Echoes - VOICE:over VI
with HERstory (Julie Crenn & Pascal Lièvre), Gulzat Egemberdieva, Tuấn Mami
What happens when voice is documented? How are memory, storytelling and history preserved, and what is lost in the process?
"The exhibition Talking Heads: Archival Echoes presents three artistic positions on archiving of 'voice.' Archives are not only understood here as documentation. They are a productive medium for telling personal, collective and political stories. The multimedia works presented here test the limits of what is an archive and where voice resides within it. The video archive HERstory founded in 2012 by curator Julie Crenn and artist Pascal Lièvre, captures personal accounts of feminist and gendered positions in the art world. In 2023, HERstory recorded a new set of interviews in Berlin which will be presented in the exhibition. Tuấn Mami's installation Museum of the Immigrating Garden (2023) reveals a deeply personal and hidden story of migration from Vietnam to Germany. The work is part of the ongoing project, Immigrating Garden (2020 – present), through which the artist explores the diasporic voices behind discretely imported and home-grown plants from Vietnam. Finally, Gulzat Egemberdieva's installation Neither in the Mountain, nor in the Field (2023) explores the importance of orality for nomadic communities of Central Asia. Egemberdieva's experimental documentary film is accompanied here by photography by Tobias Marschall and an on-site installation."
Site web :kunstverein-tiergarten.de
---
---